the short english version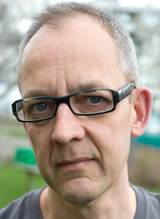 My full name is Christian Yde Frostholm, but please just call me Cyf.
As a writer, I have published poetry and prose in Danish since 1985. As a visual artist, I have exhibited in art galleries, in public space, and on the internet. For 15 years I was a curator at Afsnit P, an exhibition space for visual poetry in Copenhagen that in 1999 turned into a web-based project (ended 2009).
My two latest printed books are the travelogue Paris en brugsanvisning [Paris a user's manual], and the photo book Things left behind. Among my latest projects are the interactive narrative Kalender for natten [Calendar for the night] made for iPad in collaboration with illustrator Simon Bodh Nielsen, and the installation Pessoas træ [Pessoas' tree] at The Royal Library in Copenhagen.
You can read three of my poems in M–Dash and a longer one in the Nashville Review, all of them in Karen Havelin's great English translation.
In the spring of 2018 I had a show together with Mette Kit Jensen at SCOTTY in Berlin.
Please contact me or download my cv, if you need more information.
/CYF