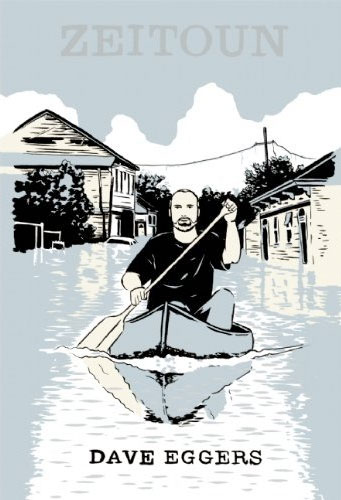 Da Dave Eggers var i London for nylig til et Book Slam-arrangement på The Tabernacle, læste han nogle få sider af sin nyeste udgivelse Zeitoun og lukkede derefter bogen, hvorefter han fuldkommen ubrudt gled over i en genfortælling af en stor del af historien. I første omgang måske lidt skuffende, når man er kommet for at høre en forfatter læse, men man blev hurtigt suget ind af hans utrolige evne til at fortælle mundtligt, som det næsten føltes som en større oplevelse at være vidne til, end til en mand der læser ord til andet hvad han har skrevet.
Zeitoun er non-fiction, men letlæst, jeg havde nær sagt som en thriller. Den handler om en familie, der bliver offer for orkanen Katrina, men i endnu højere grad for myndighedernes måde at tackle katastrofen på i det paranoide klima efter 11. september. Det er en af den slags bøger, der umuligt kan efterlade én ligegyldig. Ikke mindst fordi det hurtigt bliver klart for én at katastrofen ikke afgrænser sig til New Orleans og 2005. Det der gik galt i New Orleans hænger jo sammen med noget der foregår overalt i Vesten i disse år. En foragt for basale rettigheder og menneskelig respekt. Et skred som gør, at det fra det ene sekund til det andet pludselig kan blive "okay" at fratage tilfældige medborgere al værdighed. Hvis man ikke allerede var alarmeret, bliver man det når man har lyttet til Kathy og Abdulrahman Zeitouns historie.
(Jeg gentager lige linket til Gary Youngs rammende anmeldelse i The Guardian).